Join us and earn up to 3 ACHE Face-to-Face Credits!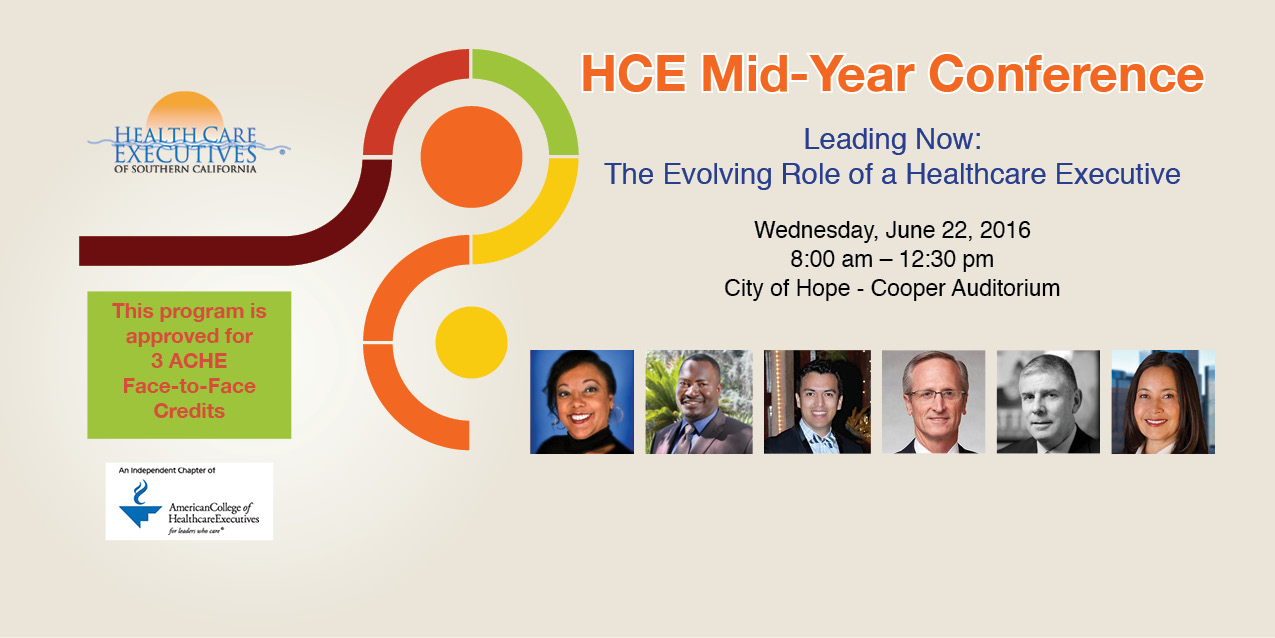 Agenda
8:00am – 8:45am – Registration/Networking
8:45am – 9:00am – Welcome and Introductions
9:00am – 10:30am – Panel:  Multi-Generational Leadership
For this discussion, we want to look at diversity, but not in terms of race or gender, but by generation.  As the healthcare industry is changing and becoming more complex, a multigenerational workforce presents unfamiliar terrain for healthcare leaders.  We will explore specific challenges healthcare leaders encounter with multigenerational organizations.  Assess how multigenerational conflicts affect organizational culture and patient care.
MODERATOR: Len Fong, Executive Director, Multi-Ethnic Marketing, City of Hope
Marie M. La Fargue, MPH – Director, Oncology Programs, MemorialCare Cancer Institute, Orange Coast Memorial Medical Center
Christopher Sistrunk, PhD – Assistant Research Professor, Population Science BRI, City of Hope
Pattie Soltero Sanchez, RN, BSN, MAOM – Acting Chief Nursing Officer, Chief Nursing Information Office, LA County – Harbor/UCLA Medical Center
Victor Carrasco, FACHE – CEO, Kindred Hospital Rancho Cucamonga.
10:30am – 11:00am – Networking Break
11:00am – 12:30pm – Panel:  Career Advancement
We have invited panelists from various executive search firms to discuss what they look for in today's healthcare executive.  As the healthcare evolved in recent years, how has the role of the healthcare executive evolved?  We will explore any new skills these firms search for, or any change in tactics in their search for that next executive.
MODERATOR: Sherri Hollingsworth, Chief Human Resource Officer, PIH Health
John Faubion, FACHE – Owner, Faubion Associates
Mark Andrew  – Senior Partner, Witt-Kieffer
Jennifer Heenan – Consultant, Spencer Stuart